Message from Head of School | Discover | The Community | Curriculum Overview | Campus and Facilities | Admissions
Message from Head of School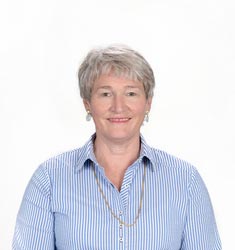 It is with pleasure that I greet you and welcome you to our wonderful school, the Australian International School Phnom Penh (AISPP). We are excited to continue growing, as we enter into our 4th full school year for 2020-2021. We take pride in offering the Australian Curriculum (AC) to our students, as it has earnt a strong educational reputation as one of the best worldwide for inquiry learning. This matches nicely with our authorisations from the International Baccalaureate in the Primary Years Programme (PYP), and the Diploma Programme (DP). We are proud to be known as an IB World School.
Our experienced and skilled teachers come from around the world – Australia, New Zealand, the UK, the USA, Canada, and more. With their international school experience, they are the best guides for your children in making their way through the world of education. We encourage all children to be proactive learners, taking the responsibility to think critically, be creative, challenge themselves, and know that they can make a difference in this world. This is what the Australian Curriculum strives for, as well as what the IB focuses on – global citizenship is key to success in the world today, and our caring environment will give your child that advantage.
The co-curricular activities (CCAs) that take place at AISPP are an important part of your child's life too – these support and develop the social emotional growth of our students. They can learn to cook, join the robotics group, swim, be creative with art projects, and so much more. The whole student is what is important to us, and this is just one aspect of how we meet the needs of all of our students.
We look forward to welcoming your whole family to our beautiful, green campus in the quiet area of Toul Sangke at any time.
Betsy Hanselmann, M. Ed.
Head of School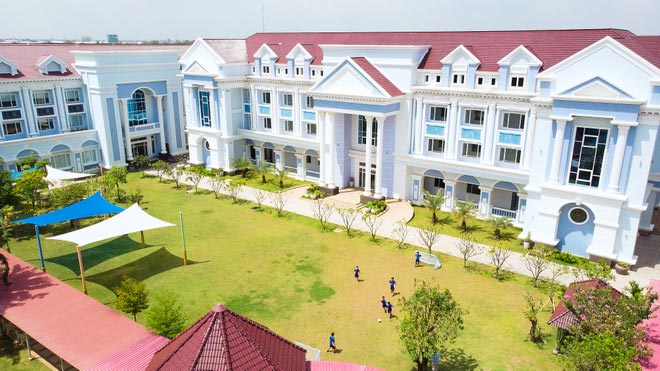 Discover
Built in 2016 with impressive facilities set in a stunning garden campus, AISPP offers education to students from 9 months to 18 years.
Our Early Years programme draws on the core values of the Reggio Emilia Approach together with the Australian Early Years Learning Framework.
Primary and Middle Years students focus on the rigorous standards of the Australian Curriculum, taught through the framework of the acclaimed IB Programmes.
Fully authorised to offer the globally respected and recognised IB Diploma Programme, AISPP Senior students look forward to pursuing degrees in universities worldwide.
Our teachers are highly qualified and experienced educators with an average of 15 years' experience. Over 60% of our education staff hold Master's Degrees or higher, many from some of the world's leading institutions: The University of Melbourne, The University of Pennsylvania, King's College London, Tufts University, Hong Kong University and many more – meaning your children benefit from the best education available.
AISPP continues to invest in its teachers through extensive Continuous Professional Development, ensuring that we maintain our position at the cutting edge of educational practices. Most importantly, your children are at the centre of everything we do. AISPP is proud to be leading the way in Cambodia.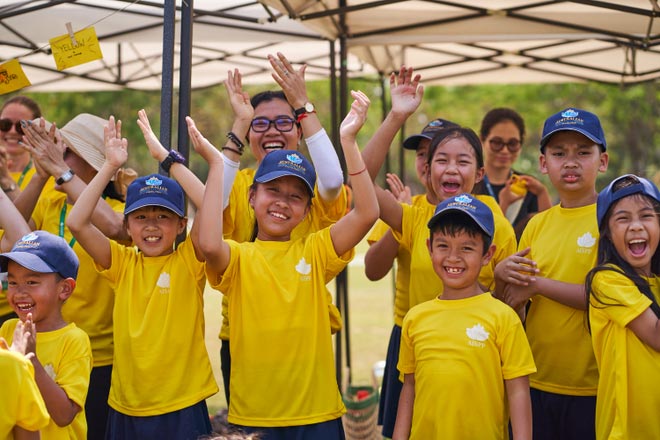 The community
Our community is central to everything that we do and your children are central to our community.
Truly effective education involves a partnership between school, students and families – a partnership with a shared purpose, to help your children be the best they can be.
Join our community and enjoy not only regular, clear and purposeful communication on your child's educational progress, but a range of social and cultural events hosted throughout the year at our stunning garden campus.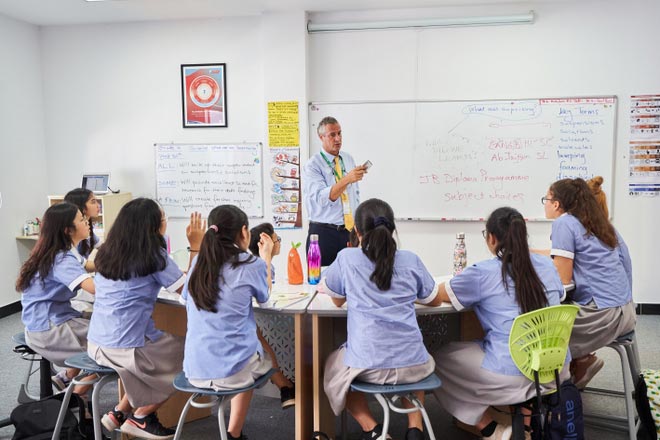 Staff
The Australian International School Phnom Penh prides itself on the quality, experience and qualifications of its staff. Drawn mainly from Australia, the UK, the US, South Africa and New Zealand, our team brings together the very best national and international qualifications and standards – meaning they are ideally placed to help your children be the best they can be.
Averaging 15 years' experience in education, over 60% of our teachers hold advanced, post-graduate qualifications. All hold Bachelor's Degrees and are professionally licensed by the relevant authorities in their home countries.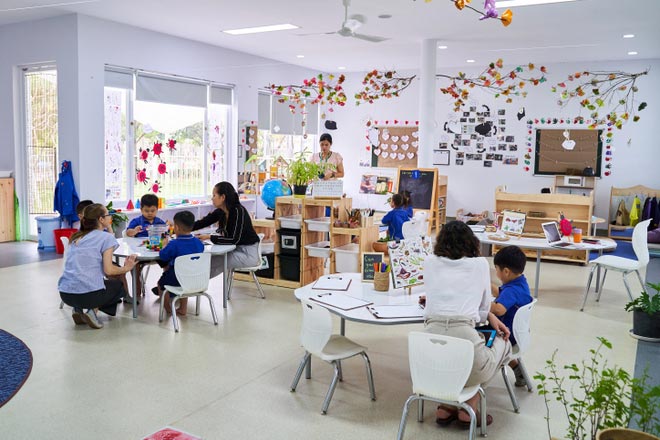 Curriculum Overview
Early Years
Our young learners (aged 2 – 4) enjoy a play-based learning curriculum which follows the Australian Early Years Learning Framework (EYLF). This is taught through the framework of the Emilia Reggio Approach and shaped to prepare students for their move to Primary Years. In addition to class time, Early Years students benefit from specialist classes in:
● Language & Culture
● Music
● PE & Swimming
Primary Years
Our Primary Years learners (Foundation – Year 5) participate in an inquiry-based learning programme which combines the Australian Curriculum standards with the teaching and learning approaches of the IB Primary Years Programme. In addition to class time, Primary Years learners benefit from specialist classes in:
● Language & Culture
● Music
● Visual Arts
● PE & Swimming
Secondary Years (6 – 10)
Our Secondary Years students continue to follow the Australian Curriculum standards, taught through the IB Middle Years Programme methodologies, providing both academic rigour and a focus on skills development.
Secondary Years (11 – 12)
Senior students are able to choose between a range of graduation options.
1. The IB Diploma – this international respected programme is a highly rigorous, academic course. It is recognised and accepted for entry to universities worldwide. Students choose six subjects which they study across two years.
2. IB Courses and High School Diploma – depending on academic ability and/or choice of university programme, some students will select to graduate with a US-style High School Diploma. Any IB subject courses that are completed are awarded Certification by the IB.
3. Dual Entry Programmes – for some subjects, it is possible to complete university foundation courses while taking the High School Diploma. Students are registered both with AISPP and with the chosen university. It is even possible to complete enough credit courses to complete your first year of university while at school!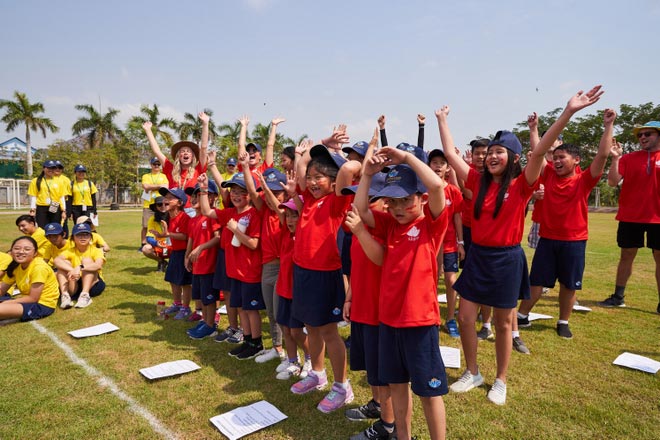 Campus and Facilities
Set in stunning tropical gardens, AISPP offers the full range of international standard facilities, designed with the future in mind.
Take a virtual tour of our campus facilities:
Admissions
Welcome to AISPP. We are delighted that you are considering joining our community!
At AISPP, it is our school spirit that sets us apart. We have a beautiful campus, set in six hectares of tropical gardens. We follow two of the world's best curricula – The Australian Curriculum and the IB Programmes. Averaging 15 years of experience and most holding postgraduate degrees, our teachers bring the best of the education systems from 14 different countries. Our academic pathways offer a variety of routes from Early Years through to graduation and universities worldwide.
But most of all we care. Your children are at the centre of every decision we take. Join us today and let us help your children be the best they can be.
To arrange a visit, please book a tour online or contact our admissions team who will be happy to help.
Phone: +855 (0) 86 252 511 / +855 (0) 89 888 220
Email: [email protected]