Despite Cambodia's status as a developing country, its grocery stores are, compared to many neighboring countries, fantastic. Because Cambodia signed up to the World Trade Organization in 2004, the country was flooded with imported goods–maybe not so great for the economy, but the expats in town aren't complaining! Phnom Penh's supermarkets aren't cheaper, of course, than shopping at a local market, but if you prefer your meats refrigerated, your prices fixed and access to imported products, you've got many options in Phnom Penh, and more are being added all of the time including organic options. This updated posts features 7 of the best supermarkets in Phnom Penh.
Lucky Supermarket – Sihanouk
Lucky is a chain of Western-style grocery stores in Phnom Penh (four at last count) and although the Sihanouk Boulevard branch is not the biggest, it is probably the most popular. It seems to be the testing ground for new products, and as of late they have been expanding their selection of foreign foods with lots more imported meats, fruits and cheeses. (They've even got Greek yogurt and chorizo these days!) Their selection of vegetables and produce is outstanding, although the prices have been steadily climbing so if you're watching your wallet, it makes sense to buy the locally available items at a local market for half the cost. Lucky also carries a large selection of Western and Asian snack foods as well as dry goods like shampoo and diapers. It gets very crowded after work, so plan accordingly.
Lucky Supermarket Sihanouk
160 Sihanouk Blvd, Phnom Penh
T: 023 215 229
Open daily, 08:00–21:00
luckymarketgroup.com
Bayon Market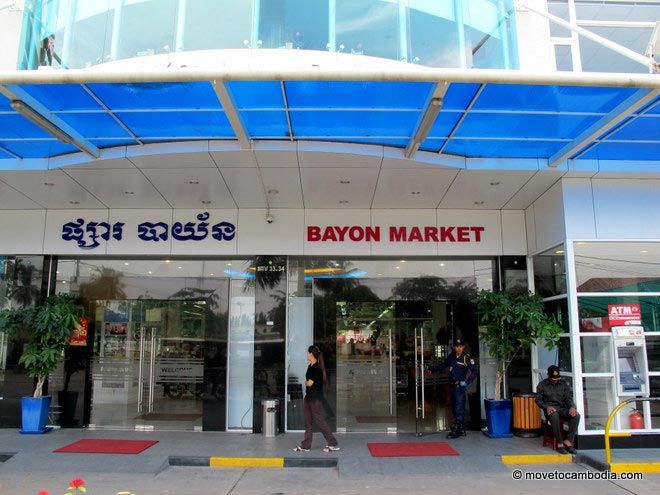 If you want to stock your pantry, Bayon Market in Phnom Penh offers the widest array of dry goods at the lowest prices. From American cereals to Korean ingredients, Bayon has brands from around the world, including some surprising finds, like Costco-brand olive oil and vitamins. Bayon carries a few key items that you won't find elsewhere in town, like canned and dried black beans and chick peas, as well as various other legumes. They do have a small meat and vegetable section, and although their veggies can be much pricier than at local markets, they often carry items that you won't find locally. They also have a good selection of beer, spirits and wine at reasonable prices. Upstairs they have one of the most complete kitchen supply stores in town, where, oddly, you'll find items from Ikea and Walmart.
Bayon Market
33-34 Street 114, Phnom Penh
T: 023 881 266
Open daily, 08:00–21:00
Thai Huot
Thai Huot used to be small, but after a recent renovation they've expanded to be almost twice the former size, still filled with a wide array of foreign products, with the focus on French and European goods. They are known for having one of the best selections of cheese in town, as well as pate, foie gras and all things tempting and French, including lentils, tinned cassoulet and duck confit. Obviously, you'll need a few baguettes to go with all of the above, so of course they have good, reasonably priced bread as well. Their vegetable selection is small, but they have the essentials. Where Thai Huot really excel is in the spice department–they carry many spices sought by Europeans that you can't find anywhere else in town, such as herbes de provence.
Thai Hout
99-105 Monivong Blvd, Phnom Penh
T: 023 724 623
Open daily, 7:30-20:30
thaihuot.com
Thai Huot BKK1
A new Thai Huot supermarket opened last December and it's possibly even better than the original, and with it's BKK1 location, certainly more convenient for many expats. Thai Huot excels in dry goods, dairy, and cupboard items. They've got a great selection of French wines and cheeses, and French baked goods, plus an excellent array of European spices. They aren't as impressive in the meats department, but all of that cheese, glorious cheese, makes up for it. Thai Huot used to be one of the only places in town you could get a Camembert. Now there's loads of competition, but unlike many of the once-unique businesses in Cambodia who struggle to keep up with the pace of development in Cambodia, Thai Huot has been able to stay ahead of the curve.
Thai Hout BKK1
214 Street 63 (at Street 352), BKK1, Phnom Penh
T: 023 726 604; 023 726 605
Open daily, 7:30-20:30
thaihuot.com
Lucky Supermarket – Olympic/City Mall
Although most of the Lucky supermarkets are quite similar, what sets the Lucky inside City Mall apart is that it's enormous. Wide aisles makes for a great shopping experience, and they have more space to dedicate to some of the sections they skimp on in their other stores, such as household supplies and toiletries. They also have a great selection of fresh meats and seafood as well as fruits and vegetables. It's a little outside of the city center, but offers a much less crowded and more relaxed shopping experience.
Lucky Supermarket Olympic/City Mall
Monireth Blvd, Phnom Penh
Open daily, 8:00-21:00
luckymarketgroup.com
Veggy's
Deceptively small in appearance but packed with product, Veggy's offers a selection of frozen, imported meats and seafood, canned goods, imported wines and features a cold room in the back that is packed with Western vegetables, meats and cheeses. This is the place to go for many hard-to-find items including fresh artichokes, pine nuts, chorizo and manchego cheese, among other things. More of a specialty shop than supermarket, Veggy's still manages to carry enough to cover (almost) everything you need.  While the store could accurately be described as overpriced and the staff as inattentive, Veggy's still is worth a visit for hard-to-find items. (Read the full review here.)
Veggy's
23 St 240, Phnom Penh
T: 023 211 534
Natural Garden
Natural Garden is Phnom Penh's leading source of organic vegetables for restaurants and hotels, but they also have a couple of retail locations. The Street 63 is their original store, and carries a wide range of organic vegetables, fruits, and herbs. They've got their own farm where they grow most of their produce, which actually looks organic, i.e. imperfect in a good way. Natural Garden is one of the only places in town where you can find proper red tomatoes. They also sell organic rice, free-range chicken, and eggs. Natural Garden also carries a range of imported meats and cheeses that while are not necessarily organic, are high-end and tasty. The store is also a good place to find other natural and organic local products that show up from time to time, from macrobiotic lunchboxes to locally-made yogurt drinks.
Natural Garden
213 Street 63, BKK1, Phnom Penh
T: 023 555 2028
ngkhmer.com
There's more! We've also got a list of all of the organic groceries and retailers in Phnom Penh.